The Undisputed Power of Video

Simple fact: Video marketing is proven to increase sales and leads. If you're not using video in your sales and marketing efforts, you are losing customers to your competitors who do use it.

Companies that include video in their overall sales and marketing strategy benefit from:

Higher Click-Through Rates (CTR)


Higher Engagement Rates


Higher Conversion Rates
"Including a video in an introductory email increases the click-through rate by 96%. That's nearly twice as many people clicking through because you included a video in your marketing emails."


Implix
Email Marketing Survey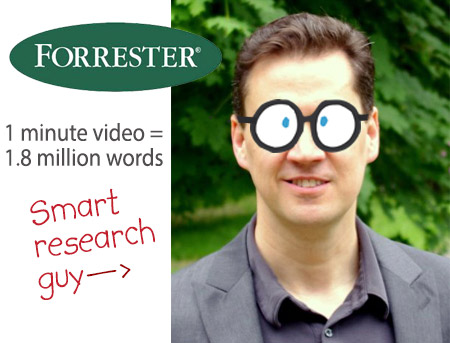 Dr. James McQuivey, VP of Forrester Research, author of
Digital Disruption
, gets his Voodoo on.
1.8 Million Words

If a picture is worth a thousand words, what about a video? Video makes pictures move and talk, with graphics, music and sound effects. It communicates information and emotion, making them memorable and "sticky."

What's a video worth? Well, Dr. James McQuivey of Forrester Research estimates the average value of a one-minute video to be the equivalent of about 1.8 Million words. (That's the number of words on 3,600 typical web pages.)

Video is a magical way to communicate online and the single best marketing investment you can make. Super-charge that investment by using Voodoo to get your videos seen by the people who matter. Voodoo automatically custom-brands, personalizes, distributes and tracks your video.